Medellin 2017
The third edition of LACNIC On the Move 2017 will take place on 22-24 November at EAFIT University in Medellín, Colombia. The initiative will be organized jointly with the Government of Colombia.
This event will focus on sharing information, experiences and best practices in BGP, IPv6 deployment and the Internet of Things, as well as key Internet network security and stability issues currently under discussion.
LACNIC On the Move Medellín will be held jointly with the Amparo Workshop, which focuses on the creation of cybersecurity incident response teams.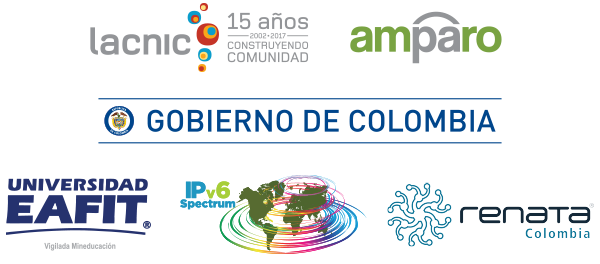 Live webcastRegistrationGeneral Information
Agenda
Wednesday 22 November
08:30 – 9:00
Registration
09:00 – 9:15
Opening Ceremony
César Díaz (LACNIC), Nicolás Silva (MINTIC), Erika Vega (RENATA)
09:15 – 10:00
Status of IPv4 Exhaustion
Guillermo Cicileo (LACNIC)
10:00 – 10:40
Internet of Things (IoT) and IPv6
César Díaz (LACNIC)
10:40 – 11:00
Coffee Break
11:00 – 11:40
Creating Public Policies to Promote IPv6 Deployment
César Díaz (LACNIC)
11:40 – 12:30
Advances in IPv6 Deployment – The Colombian Experience
Iván Castaño (MINTIC)
12:30 – 13:30
Lunch
13:30 – 15:00
IPv6 development impact
Erika Vega (RENATA)
15:00 – 15:30
Coffee Break
15:30 – 16:15
Experiences in IPv6 Adoption. Superintendencia Nacional de Salud and Universidad Distrital
Gustavo León Chaves, Julián Moreno (IPv6 Spectrum)
16:15 – 17:00
Digital Security Strategy of the Colombian ccTLD
Gonzalo Romero (Punto CO)
Location: Building 38, auditorium 101 –> view map
Location: Building 38, auditorium 101 –> view map
Friday 24 November
09:00 – 10:30
IPv6 TUTORIAL
Guillermo Cicileo (LACNIC), Erika Vega (RENATA)
10:30 – 11:00
Coffee Break
11:00 – 12:30
IPv6 TUTORIAL
Guillermo Cicileo (LACNIC), Erika Vega (RENATA)
12:30 – 12:45
Closing Ceremony
Location: Building 38, auditorium 110 –> view map